Spring 2018 Workshop
Only a few times a year HeadhunterFX offers a 6-day workshop in the creation of silicone prosthetics
This spring we had a group of 5 students that we learned all the techniques of creating silicone prosthetics; they learned lifecasting, sculpting, molding, casting and applications techniques.
How can I apply for such a workshop?
Drop us a line at our contact page or shoot us an e-mail on info@kelatow.com and we'll be in touch with you.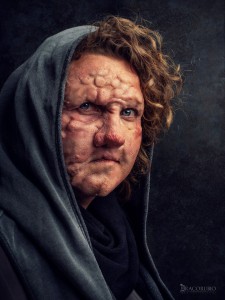 This is the demo make-up Lawrence did for the workshop; he used five silicone prosthetics to turn intern Willemijn Hartkamp into a leper. Photo by Dracorubio Photography
About Us
Our company specializes in make-up effects for film, television, videos and events.
Contact Details
SPECIAL MAKE-UP & EFFECTS
We create everything from life-like silicone prosthetics to hyper-realistic medical training aids. We do prosthetics as small as a nose tip to a full body foam latex bodysuit and anything in-between.